Timothy Sandefur on Freedom's Furies
Timothy Sandefur on Freedom's Furies
Timothy Sandefur with Juliette Sellgren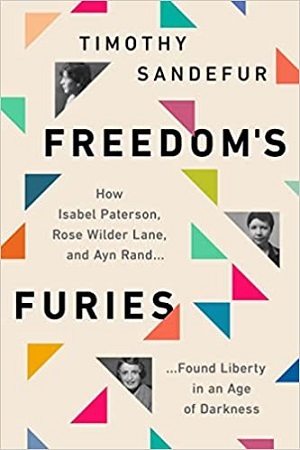 March 17, 2023
Timothy Sandefur
is the vice president for litigation at the Goldwater Institute and the author of six books, including
Frederick Douglass: Self Made Man
and
Freedom's Furies: How Isabel Paterson, Rose Wilder Lane, and Ayn Rand Found Liberty in an Age of Darkness
.
These three women all lived during the
Great Depression
, so he talks to us about the literary, historical, and political scenes of the time, painting a picture of their works and relationships in context. We discuss the parallels between their time and ours, and his optimism for the future.
And don't miss
Alice Temnick's Great Antidote EXTRA
on this episode, where you'll find even more to explore!
Want to explore more:

Timothy Sandefur on Frederick Douglass
, a Great Antidote podcast.
Caroline Breashears,
Adam Smith, Ayn Rand, and the Power of Stories
, at Econlib.
Jennifer Burns on Ayn Rand and the Goddess of the Market
, an EconTalk podcast.
Comments