What Adam Smith Ate – Celebrating Adam Smith's 300th birthday!
What Adam Smith Ate – Celebrating Adam Smith's 300th birthday!
June 7, 2023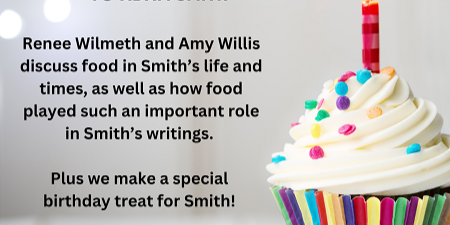 with Renee Wilmeth
Cook along with us!
Have you ever wondered what Adam Smith would have wanted for a birthday cake?  Or what he might have eaten to celebrate his birthday?  Smith has always had a strong connection to food. Staples such as corn, seafood like herring, and potables like wine were a large part of the 18th century economy. However, Smith also knew about the social economy and was a frequent guest – and host – at gatherings of scholars, scientists, and friends who gathered over a good meal and wine. It was common in Edinburgh during Smith's day to see these groups of scholars, writers, and thinkers gather at local taverns or in local homes leading one historian to note there was a local saying at the time: "You may rather call them the Iterati (Eaterati)" as a group of literati strolled past at the dinner hour.  

What would Adam Smith have eaten to celebrate his birthday?  We've chosen an easy recipe for Cream Crowdie, a dish with toasted oats, strawberries and whipped cream, but be ready for our variation to turn it into a Scottish trifle featuring cake, jam, custard, whipped cream, and Smith's favorite strawberries as a celebration worthy recipe to share. 
In this 1-session VRG, Renee Wilmeth, author of the What Adam Smith Ate series for Adam Smith Works will join Liberty Fund's Amy Willis and VRG participants to discuss food in Smith's life and times, as well as how food played such an important role in Smith's writings. Then, Wilmeth will move to the kitchen to help viewers at home create their own version of this Smithian birthday dessert! In addition to the readings, VRG attendees can collect the ingredients from the recipe below. You can create this dessert along with the VRG team learning adaptions along the way to make this dessert perfect for any occasion.
Join us for this delicious foodie discussion and cooking demonstration about Smith, his life, work, and his relevance at 300 years!
Readings:
Adam Smith, An Inquiry Into the Nature and Causes of the Wealth of Nations, Vol. 2, Book IV, Chapter 5, "
Of Bounties
"
Adam Smith, An Inquiry Into the Nature and Causes of the Wealth of Nations, Vol. 1, Book I, Chapter 8, "
Of the Wages of Labour
" (paragraphs 33-36)
**************************************************
Cream Crowdie  
Serves 4
1 cup uncooked old-fashioned rolled oats 
4 tbsp maple syrup
2 tbsp butter  
1 cup whipping cream
2 tbsp honey
3 tbsp Scotch whiskey (to taste)
8 oz fresh strawberries (or raspberries)

1. Melt the butter in a large skillet over medium heat. Add the oats and maple syrup and stir until the oats are coated. Continue to cook until the oats are toasted and golden brown. Set aside on parchment paper to cool. (This step can be made ahead.)
2. In a large bowl, whip the cream to soft peaks. Add the honey and whiskey and continue whipping until stiff peaks form. Wash, hull, and slice the berries.
3. In a glass trifle bowl or individual serving dishes, layer the whipped cream, the oats, and fresh berries. Top with whipped cream and decorate with additional berries.
Notes: 
You can substitute 1 cup of crumbled pre-made granola for the oats, maple syrup and butter. Simply crush it into small pieces. 
You can make variations like a Tipsy Laird by layering 2 cups of vanilla pound cake soaked in ¼ cup Drambuie or whiskey liqueur, ¼ cup of warm jam, and 2 cups of vanilla custard with the toasted oats, whipped cream, and fruit.
Equipment 
Trifle bowl or individual glass serving dishes
Electric mixer with whisk attachment