The Great Antidote: Kenneth Elzinga on Teaching Economics and More - Deep Dive
The Great Antidote: Kenneth Elzinga on Teaching Economics and More - Deep Dive
Kenneth G. Elzinga and Juliette Sellgren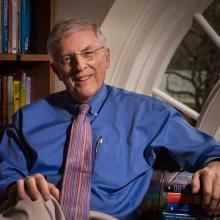 Over a friendly dinner on vacation, Kenneth Elzinga and his friend Bill Bright set out to create an economic detective under the pseudonym Marshall Jevons (nods to Alfred Marshall and William Stanley Jevons). Their protagonist, unabashedly modeled on Milton Friedman, is diminutive, balding, and conducts investigations governed by the laws of microeconomics. This series is just one of many ways Elzinga has been called and answered that call in his decades long career as an economic educator. 
Kenneth G. Elzinga is the Robert C. Taylor Professor of Economics at the University of Virginia. Elzinga and host Juliette Sellgren talk about Elzinga's academic work, popular economics mystery series, his Christian faith, and many other topics as well.   
Elzinga is the recipient of many teaching awards and the Southern Economic Association has named their teaching award for him. Elzinga has over one hundred publications and has taught hundreds of thousands of students over the course of his teaching career - including Great Antidote host Juliette Sellgren at the University of Virginia. He researches in the area of antitrust economics and has testified in precedent-setting antitrust cases including the Supreme Court case:
Matsushita
,
Brooke Group
, and
Leegin
. Elzinga is also known as the coauthor for four economic mystery novels (under the pen name Marshall Jevons). 
Listen to this episode
The Great Antidote: Kenneth Elzinga on Teaching Economics | Adam Smith Works
Related AdamSmithWorks content
Related Liberty Fund content
Other Great Antidote podcasts mentioned
People, places, and things mentioned
Resources compiled by Christy Lynn