What Adam Smith Ate: Lingering in Languedoc
What Adam Smith Ate: Lingering in Languedoc
Renee Wilmeth
for AdamSmithWorks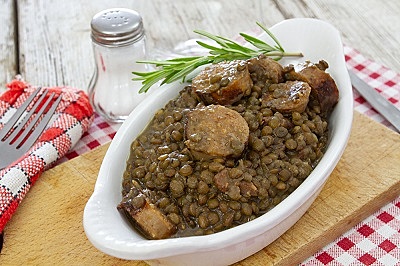 One of the first things a traveler learns as they experience France is that the food is both classic and modern at the same time. Chefs today use molecular gastronomy and microgreens, but the dishes – and the recipes – are often hundreds of years old.  While trends come and go, the essential comfort food of France hasn't changed much in 300 years.


In France, regional foods are distinguished by the accompanying wines from grapes that are usually grown nearby. It's a question that wine lovers have debated for centuries: "What came first? The food that perfectly pairs with the wine or the wine style that grew to match the food?" This perfect marriage of food and wine is especially true in southwest France. 


The Languedoc
– or Occitaine in the local dialect – spans southwest France and is bordered by Spain and the Pyrenees. Just down the Garonne river from Bordeaux, the region is home to lush, fruit-driven Languedoc wines that are hearty, like the food, and pair perfectly with the garlicky pork sausages, rich duck, white beans, and hearty sauces that make up the food of this region.
By 1763, peace had found its way to the Continent at last, and Smith left his University in December on the Duke of Buccleuch's long-delayed Grand Tour, although we might call it more of a year of "residential study." By March, they arrived in Toulouse, home to close friend and local fixer Abbé Colbert, a good friend and "cousin" of
David Hume
's, who hailed from Scotland and served as a local contact for other Scots in the area. 
Toulouse, a city of 50,000 residents, was a stop on many students' travel, and Smith writes about several who visited while he was there. The Enlightenment was spreading throughout France, and even the pulpits of 1760s Toulouse were full of new ideas. The university and monasteries provided ample opportunity for academic rigor. It was a quiet place for the tutor and student. Smith and Duke would stay in Toulouse for 18 months.


But what did Smith eat in Toulouse? Toulouse is considered "French comfort-food country." As travel writer Benjamin Kemper puts it "Somewhere in Toulouse at this very moment, potatoes are sputtering in goose fat, apricot cakes are rising in a warm oven, and soups are bubbling in big clay cassoles."


We can imagine Smith and the young Duke wandering the famous pink-bricked streets and feasting on what their cook brought home from market day: Duck confit, sausages, and white beans turned into local dishes like Cassoulet.  


One of the city's namesake staples was the Toulouse sausage, thought to come upon the Occitanian culinary scene about 250 years ago. Toulouse sausages are rich in garlic, spices, and red wine. (If you've ever visited southern France, you know about the infamously strong garlic.)  


For this dish, we're featuring Toulouse sausages but with lighter French lentils for a modern take on a regional classic – sausage and lentils, a local dish that would have definitely made it into the rotation for simple suppers with Smith and the Duke. Take note: In France, Toulouse sausages are sold by the meter.




Toulouse Sausage and Lentils


1 meter of Toulouse sausages, or 1 ½ - 2 lbs French sausages with garlic and spices (at least 6)


3 tbsp olive oil


1 head of fennel, thinly sliced


1 onion, finely chopped


1 carrot, finely chopped


2 cloves of garlic, minced


1 cup red wine from the Languedoc or Southern Rhone


1 1/2 cups French green lentils


2 tbsp tomato paste


2 cups of chicken or vegetable stock


6 sprigs of fresh thyme


1 sprig of fresh rosemary


1 bay leaf


Salt and pepper 


In a large heavy bottomed Dutch oven or casserole, heat the olive oil over medium-high heat. Add the sausages and sauté until they are browned on all sides. As the sausages cook, add the fennel, onion, and carrot around the edge of the pan. When the vegetables are soft and the sausages are close to being done, add the garlic. When the garlic is fragrant, deglaze the pan with 1 cup red wine, scraping any browned bits from the bottom of the pan.
Rinse the lentils, then add them to the wine, vegetables, and sausage. Add the tomato paste, then the stock and herbs. Season with salt and pepper.
Bring to a boil, then turn the heat down to a simmer, cover, and cook until the lentils are done and the liquid creates a thick sauce, about 30 minutes. Adjust your seasoning as needed.  If a sausage casing breaks, stir the meat in with the lentils. Serve in bowls with crusty French bread.  
Serves 6



 Read the previous What Adam Smith Ate posts:
Comments